As I get closer to moving to my new house, I have been gathering a lot of ideas for my new Craft room! I am so excited that I am going to have a room that is dedicated only to my scrapbooking/crafting. In the meantime, I thought I would share pictures from my former scrapbook space.....that was also our office as well.
This is the table where I did my scrapping.
The bookcase had some of my scrapbook stuff and albums.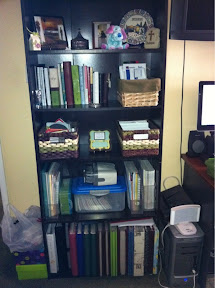 As you can see, I had to make room in my closet.
(glad I won't have to do that again! LOL!)
Thanks for looking. Hopefully it won't be too long before I get my space the way I want it.
~Michelle