Here are the latest additions to my craft space. My husband surprised me with these three pictures. He knew I would absolutely love them! Nothing is more important to me than my faith and of course that picture had to be the one higher than the rest. ;)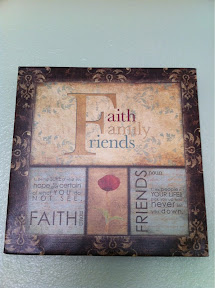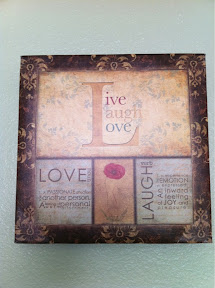 I had bought 4 of these cube units from Michael's on clearance. I was originally going to return this one......and my sister told me not to and now I am glad I didn't. I placed in sideways next to my craft table and placed my laptop on it. Now I won't have to bring out a small folding table out when I want to use my laptop for the Cricut Design Studio or SCAL. With this right next to me.....I will probably use the two programs even more now.
It is nice because I can keep my magazines closer to me when I need inspiration. (I moved my magazines from the other cube units I have on the opposite wall.) I also keep my giraffe bag handy with all my most used tools too! I hate clutter......so this really helps me keep everything in order and in it's place!
Thanks for looking and happy crafting!!
~Michelle
- Posted using BlogPress from my iPhone