I wanted to make We've Moved cards and mail them out to my friends and family........but this past month has been busy! Hard to believe we have been in our new home for a month now! I figured I would at least make one for now and post it and then I can mass produce them once I have the first one made. So here it is......
I used the Houses4Us stamp set from
The Stamps of Life
. I really love the stamps and am a club member.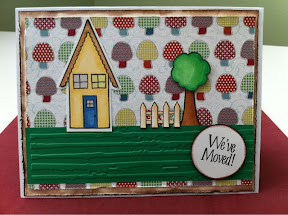 The supplies I used are below. I also used pre-made white cards I bought at Michael's and a standard black ink pad to stamp the images. I really like The Green Stack by DCWV, the prints are just so cute! I used my distressing tool for the tan card stock in the back as well as the DCWV printed card stock. I used the Color Box Chalk in dark brown on the back piece of card stock as well as the "We've Moved" circle. I cut out the house, fence and tree and used a pop dot for the tree and the "We've Moved". The green strip, I finally used my Cuttlebug. (I don't remember which embossing folder it was that I used.)
These are all of Copic markers I used to color all of the stamped images.
Thanks for looking! Hope you liked my card!
~Michelle
- Posted using BlogPress from my iPhone